News and Events
---
​

Spring 2022 Newsletter

​

Mission of TEARS Barrel of Blessing program update April 2022

Mission of TEARS Barrel of Blessing program is working to aid families year-round in Haiti.

Barrels of Blessings below being received and checked at FEJ stagging site before distribution begins.

"We had fun organizing the barrel contents. We made chili tonight and tomorrow morning we are going to make pancakes and use the maple syrup

We just got back from FEJ We picked up both barrels and I gave Maryse my new number and Eryls number. Maryse gave me her number too. They were happy we showed up We are emptying the barrels now and going over the packing list. Please pass on our thanks to everyone who made the barrels possible "

Update from Pastor Spencer

Hi Pastor Gordon, I hope you're doing well. I received the barrel as you have mentioned with many different food in it. I received food for my family and to share with others, I already sent some for Sonson and shared with some other people. Thank you so much and be blessed.

Barrels of blessings FAQ 2022

Over the years of doing these shipping containers and Barrels we get frequent asked questions that we would like to answer for everyone.

Why not just send money to Haiti for them to buy things directly? Wouldn't shipping barrels be more expensive?

The exchange of money makes this a very difficult process. First, we must exchange to US Dollars. Then to 'Haitian dollars.' The buying power is much higher when buying items in Canada. We would save almost 30-50% in costs based on the broader range of products available at competitive prices in Canada. Most items are imported and not made in Haiti and are in short supply and subject to global increases making this program even more important. As an example of this, 6 boxes of cereal could cost over $200 USD depending on supply and demand (see posts from September 2020). There are many items that are simply not available.

Most items sent are donations, packed by volunteers who believe in the project. The shipping costs are also covered by direct financial donations. We have arranged shipping through FEJ that allows listed items to enter duty free. Shipping costs per barrel averages about $250.

The program helps provide a variety of products that would otherwise not be able to get locally such as school products and hygiene essentials such as toothpaste. This provides a better quality of life. The barrels can help all ages. Even barrels themselves are very useful after unloaded. Families can use them for safely storing water or other perishable items.

Direct financial aid to Haiti would be most needed to pay for education for Haitian children as schooling is not covered, or for medical care. Having to pay for food along with these additional costs makes it difficult to meet all their needs.

How often are we sending barrels to Haiti?

We are trying to send barrels every 4-6 weeks. We will be shipping out the next one this Wednesday. Last one we send was Feb 23

rd

, 2022, and next is May 4

th

. While we try for every month, we have been able to do so every 2 months.

It would take more Product donations and funding for this to be possible.

You can see the pictures and comments through out the site from those who receive the barrels.

What products are most needed right now for Haiti?

The greatest need is always food and that being staples, Rice, Beans, cooking oil,

The full list would be as follows.

Food
-Rice
-White flour
-Oats
-Corn Oil
-Black beans
-Spaghetti
-Macaroni
-All kinds of beans
-Milk
-Peanut butter
-Baby formula (Enfacare for premature babies)

-All Baby food/Formula
-Whey protein powder Natural
-can meats: tuna, spam, chicken,
-Soups powder
-Lollipop and Candy

Hygiene
-Toothpaste
-Tooth brushes
-Baby shampoo
-Hand Sanitizer
-Baby oil
-Baby lotion

School supplies
-Pencils
-Colored pencils (wood or wax)
-Stickers
-Notebooks
-Pencil sharpeners
-Pencil cases
-Backpack

-Flashlights


Where can we bring donations?

For those local to Havelock, you can bring donations to:

The Havelock Center

30 George St.

Mondays at the back door: 10:30am-12:00pm.

Thursdays Evenings at the front door: 6:00pm-8:00.

Or email gordon@missionoftears.ca for alternatives.

Items can also be mailed to:

Mission of Tears

ATTN, Gord Lewis

P.O BOX 747

Havelock,

ON K0L 1Z0

Anyone who is outside of the local area, you can also order items online through Amazon and ship directly to us at the above address.

Please consider donating today

Mission of T.E.A.R.S.

P.O. Box 3058
7700 Markham Road
Markham, Ontario, L3S 4T1

Phone: 1-877-335-8729

gordon@missionoftears.ca
diane@missionoftears.ca

Thanks for your continued support, From our Mission of T.E.A.R.S.!

​

View this newsletter on our website

We've been organizing Barrel of blessing for years now and need your help to continue.

Below see previous years accomplishments.

​

July 2020: First 8 Barrels out

​

Norwood and Cobourg PAOC

​

Emmanuel Baptist Bloomfield

​

Marmora Pentecostal Church

​

OSM Networks

​

Mattie, Keith, Ray the Godfathers of volunteers

​

Pastor Spencer with barrel recipients

​

Kids Against Hunger Canada

​

Food, school, and medical supplies arrive!

Gordon and Diane Lewis, Executive Director
P.O. Box 747 George Street East
Havelock, ON, K0L 1Z0

Phone: 1-877-335-8729
Merry Christmas!

Thanks for doing this all with us!
Diane and I send a special Christmas greeting to all who partnered with us in 2020.

We hope 2021 presents a better year for us all to continue enjoying our work in serving others.

From our Family to yours,

Have a very Merry Christmas!
Download .pdf version of this letter
We want to thank everyone for your support to Mission of TEARS through 2020 and provide an update on Barrels of Blessings. It was our Covid-19 response focused on Haiti.
Starting in July with the first purchase of 9 empty shipping barrels to be packed with donated food, health and hygienic items. It was planned those 9 barrels would last 3 months meeting our planned goal to send 3 per month.
The unexpected appeal to this project had our first month shipment consist of 8 barrels leaving from our Havelock location on July 31 our August shipment had 12, September and October combined for 15, November 14 and 11 barrels sent December 3 finished this year.
In total with the 60 Barrels of Blessings shipped to Haiti a further 2 went to Jamaica and 2 to Grenada for a total of 64 since beginning.
Forty-nine (49) of the 60 barrels have arrived in Haiti for distribution, 2 each into Jamaica and Grenada.
Barrels of Blessings provided an ideal opportunity for hands on ministry by churches and individuals in a safe setting respecting Covid-19 limitation. It allowed for pro-action not just reaction to effectively help others facing more serious impacts of the pandemic.
Countries outside of Canada faced an immediate impact to food deprivation and access to medical or schooling supplies. Each Barrel of Blessings was packed to carry those items donated as were most shipping costs.
Average dollar value per barrel would equal $700 Canadian with the cost of shipping $250 and weight of contents averaging 200 pounds per barrel. That means 12,800 pounds of food valued at 45,000 dollars shipped for $16,000 at a cost of $1.25 cents per pound of food.
Pick up and packing carries on indoors and out doors into the fall. Thanks to Norwood and Cobourg Pentecostal Churches for donations.
Thanks Bloomfield Baptist Church for 5 Barrels
Thanks to volunteers of all ages from the community and local churches. Special mention to Marmora Pentecostal Church who held an on-line auction of bake goods for Barrels of Blessings in a safe and fun environment.
This Thanks explains it all:
Today we received a Barrel of Blessing from Mission of Tears through Fondation Enfant Jesus Haiti. We excitedly unpacked our blessings of much needed food and supplies. It came at the perfect time. We are struggling to be able to purchase food and supplies. At the beginning of August 1, us$ = 120 gourdes. Now 1 us$ = 60 gourdes. We lose half of our funding through the exchange rate difference. Prices remain high in comparison to the exchange rate difference.
Thank you everyone who donated 🙂We did an inventory of the packing list and nothing was missing. All was accounted for and we were thankful for that. We are looking forward to make things like pancakes and muffins and peanut butter sandwiches 🙂Thank you Mission of Tears and FEJ.
Yours; Karen Coram Deo Haiti.
There are too many pictures and thank you notes to show in this limited space. If you want to view more visit our blog at www.missionoftears.ca/blog
Marmora Pentecostal Church volunteers packed 14 Barrels of Blessings filled from funds raised through the bake goods auction.
Special thanks to Reapers in the Rain for sponsoring shipping costs of 4 barrels and for donating items for packing
Thanks to Dave and Stephen of OSM Networks in Belleville who packed 2 barrels of food donations given by a single generous donation from friends in Prince Edward County.
The name "Godfathers" was given by Diane to the older volunteer men. She felt these men unknowingly became the "godfathers" to the orphan and poor children by ministering in giving their time to help in the preparation and shipping of Barrels of Blessings.
They may never know how many life's have been helped. They volunteered their time (sometimes at the last minute) to drive to pickup barrels, to pick up loads of donated items, to tirelessly sort items and pack barrels. Whatever the need they responded. They did so with no desire to be recognized but their energy and eagerness to provide the ministry of help encouraged us on and made success for the Barrels of Blessings.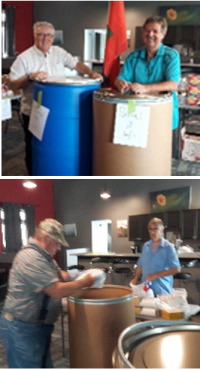 Gordon with Barrels of Blessings.
The Barrels of Blessings serve ministries, schools, orphanages, poor families and ease hunger. Here are some pictures to convey this and go with the thank you notes we receive.
Young Pastors ministries like CV and Wilsonet of ESSES are equipped from the Barrels.
Gordon, We received 8 barrels. The pressboard barrel shipment arrived in good condition and Your inventory list corresponded. It was well organized on your side. Plastic barrels are great. We can use them for multiple purposes, especially to collect water and as trash cans. Thank you very much Blessings, Maryse FEJ
Pastor Spencer smiles as he receives a Barrel of Blessing for ministry in the community of Gode. You can follow his ministry work with us online posted under MOT Ministries. Here are some of those he served with items from this barrel.
The intent of the Barrel of Blessings as a Covid-19 response for Haiti was to provide a supply chain focusing on food. Food supply inside of Haiti is fragile and expensive. The pandemic is not like the natural disasters that happen suddenly but also end suddenly. There seems no end to the problems created by the pandemic to Haiti' fragile economic system.
Mission of TEARS could not manage our response without a secure knowledgeable partner on ground in Haiti. We want to thank Fondation Enfant Jesus(FEJ) for providing the successful and secure setting Barrels of Blessing needed inside of Haiti.
Barrels of Blessings serves FEJ to provide supplies and food for their school of over 200 children. Each day one meal is served to those children from contents of the Barrels of Blessing as shown in the pictures below.
In Port au Prince, a special ITU clinic is run by FEJ to review young children who are failing to thrive. In pictures two children are enjoying Kids Against Hunger meals sent in the Barrel of Blessing for this specific use.
Thanks to Kids Against Hunger Canada director Wayne McConnachie for donating 2 ½ skids of dehydrated foods to Barrels of Blessings.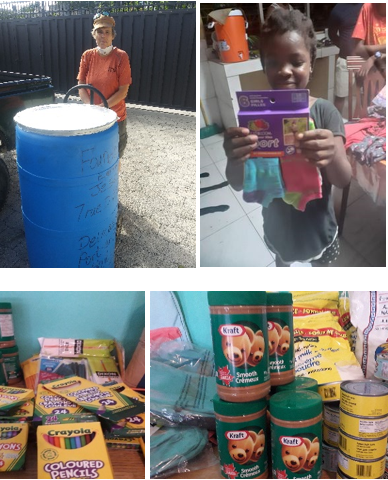 Other food items, school and medical supplies arrive in the Barrels of Blessing for use by our partners in Haiti. Below, Karen Bultje of Coram Deo receives a Barrel of Blessing and shows the contents.
Please consider us in your year-end giving! www.missionoftears.ca/donate
Mission of T.E.A.R.S.
P.O. Box 3058
7700 Markham Road
Markham, Ontario, L3S 4T1
Phone: 1-877-335-8729
gordon@missionoftears.ca
diane@missionoftears.ca

From our Mission of T.E.A.R.S. family to yours, have a very Merry Christmas!
To make a donation:
---
Previous Events
---
Ladies Charity Luncheon For Haiti
SATURDAY SEPT. 21, 2019
1:00 pm to 3:30 pm
Click for more details and to REGISTER
Crooners Christmas! (Featuring Andrew Martin)
November 24th, 2018, 6:00pm, Havelock Ontario
Christmas Special (charity dinner and show) in the style of Dean Martin, Bing Crosby, and Frank Sinatra.
September 17th, 2016 Havelock Ontario
A Faith Table Evening hosted by friends of Mission of T.E.A.R.S. located at The Ranch. For more information email Gordon@missionoftears.ca
September 18th, 2016 Norwood Pentecostal Church Morning Service
Contact npc@nexicom.net or call 705 639 2187
August 17 - 24, 2016 VBS - Coram Deo, Haiti
For details about the trip please visit our webpage.
August 23 - 30, 2016 Soccer Camp / Computer Lab Trip - La Mardelle, Haiti
For details about the trip or to give to this great project which will extend the existing FEJ school by adding vocational training opportunities for 90 students aged 16 - 25, please visit our webpage.
Sunday June 12, 2016 at 7pm - Bloomfield, Ontario
Rev. Gordon
Lewis will be speaking at the Emmanuel Baptist Church for the evening service starting at 7pm at 240 Main Street, Bloomfield, Ontario.
Gordon and the Haiti Computer Lab missions team will be sharing the goals and ultimate purpose of this trip.