Haiti / Haiteen
Friday, December 11, 2015
HOPE AMONGST DESPAIR
Mission of T.E.A.R.S. ca would like to give you our supporters a progress report for our HAITI projects. None of which could be started, finished or still underway without your financial help. For us it is a privilege to share what all of us has accomplished together. Your compassion has changed many lives including families, those orphaned before and after the quake. We were able to assist by supplying emergency food, shelter, safe water, clothing and other urgent supplies to meet the immediate needs. Schools have been rebuilt and new schools are currently under construction. Vocational training has been introduced as part of our sustainable program for GIRLS AT RISK who has been rescued from tent cities for their own physical safety. To address the physiological needs of each girl we have taken play therapists and physiotherapists to implement an individual assessment for each girl they have interviewed.
Review: JANUARY 2010
JANUARY 12TH 2010 was a day in the history of Haiti which will forever be burned in the memory of people around the globe. The earthquake devastated large portions of Port au Prince and effecting millions of lives throughout the country. It has been reported that somewhere between 245,000 ? 300,000 people lost their lives. Thousands were injured and even more lost their homes. The country was not equipped to take on this depth of crisis, thus the devastation made room for several countries to send their highly qualified people to assist HAITI. As we flew over the country and then drove through the roads inside Port Au Prince there was a strong impression to me that people would be living in tents for years to come.
THE COST OF THE EARTHQUAKE
Roads, hospitals, police stations, churches destroyed the places where people should have been able to run for help was also in crisis some had been totally destroyed. Mission of T.E.A.R.S. was able to get in touch with our on ground partners thus providing us with a firm plan to begin our assistance. We continue to appeal to our supports to help us help HAITI.
Mission of T.E.A.R.S has been assisting in HAITI since 1997. Aproximently 85% of people in Haiti live in extreme poverty. If we don?t help this small country only a 4hr flight away from Toronto then we can only expect more unrest, political upheaval and rapid spread of disease.
CHOLERA: The disease continues to spread from country sides now into tent cities. Medical teams continue to fight this horrible painful death. It respects no age or social standing inside this torn country. It can only be beaten by safe foods, safe water filtration, and quick emergency to medical facilities. It becomes more personal when someone you know has been attacked with Cholera. We will continue to help funding for this disease.
SOME FACTS ABOUT HAITI
The population of Haiti is almost entirely black and mulatto due to its historical origin as a slaveholding agricultural colony of France. The countries powerful and political elite are mainly mulatto with ethnic minorities comprising of Syrian, Palestinian and Lebanese immigrants from the trading communities. Haiti has been plagued by political violence for most of its history. Known as the "world?s poorest children in the western hemisphere? the vulnerability of Haiti?s 1.2 million children rose significantly in the context of conflict and instability not including the earthquake of 2010. Many children are forced to make their way through life abandoned, malnourished and neglected. At Mission of TEARS we closely collaboration with licensed orphanages, medical communities and schools.
DEVELOPMENT PROGRAMS FOR HAITI
We are continuing to build the school in Port au Prince. The school will assist 250 children ranging from kindergarten to high school. The initial start of the construction started in May. Our thanks go out to the city of Sudbury and its people for their vision of helping MISSION OF T.E.A.R.S get the project started. Still needs to done to help Haiti finish this vision. Read a comment by Dr. Brian Nichols from Peterborough ON. "This is a quality program, with a huge amount of obvious care being given to the whole child.?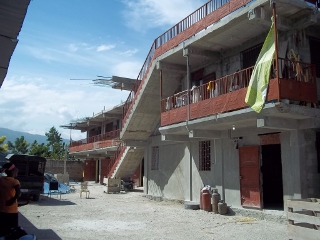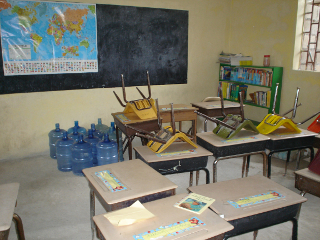 FEEDING PROGRAMS
Our on ground partners feed 240 to 275 meals a day. A nutritious meal is made of peanut in which formed balls are infused with skim milk powder, vitamin supplements, these are affectingly known as "MOCHO?MUMBA? balls. A slice of bread, along with fresh fruit gives the individual a balanced meal. Very small babies receive vitamin enriched formula and vitamin drops.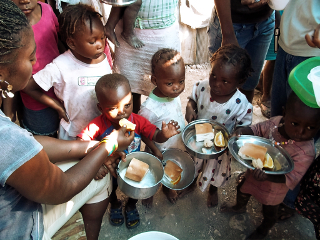 CORAM DEO
MISSION OF T.E.A.R.S continues to support Karen Bultje in her vision of Haiti. She began her Haitian journey in 1996 and a native of London ON. Ms Bultje has several followers who financially continue to support her. We invite you to visit Karen on her blog at haiticoramdeo.blogspot.com.
KAREN is expanding a school for the physically disabled and including the blind and hearing impaired. She works tirelessly in providing medical care for so many Haitians families and their children. Karen has earned the trust of many Haitians and has won a place in their hearts. She lovingly ministers to the poorest of poor and has gained favour with those in authority in various departments and several missions stationed in Port au Prince and surrounding area. She administers the medical facilitation outreach centre, and has assisted more than 4500 people each year. Karen hosts, at Coram Deo, volunteer medical teams, contractors, teachers, and the Canadian military.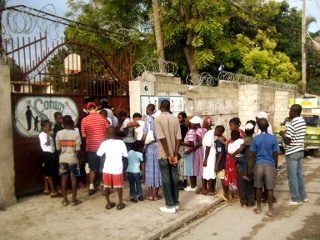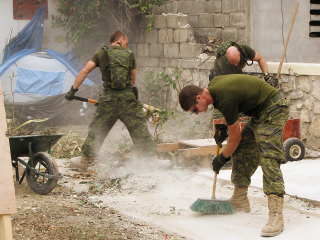 LIFE IS GOOD
On Saturday aproximently 350 children from the depressing tent cities get to enjoy singing songs, dance, games, stories and snacks along with interaction with positive adult role models. These little people have been relocated after the earthquake into the rowdy row on row of tents many are torn and falling down. No playground or school gymnasium for these ones. Many wait on the list to go to Saturday day camp. We still need more funding to help the ones that wait outside the fence looking in.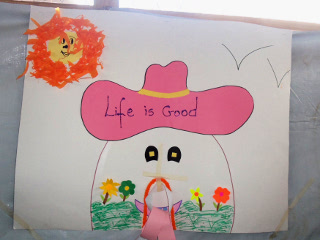 Imagine being a girl 8 yrs old losing your parent or both parents during the earthquake. Gone is your home it used to be a place of belonging, your caregiver and security, most likely all your prized possessions? pets, toys and clothes. You along with thousands of all ages are placed into tent cities no one to protect you from the evil that lurks outside your little tent. No privacy, no private toilets, no running water, you need to fight for any morsel of food everyday, no education available to you. Nothing! GIRLS AT RISK
Everything you need or want answered with a big no. It is well known and documented that girl?s who are living in vulnerable conditions in Haiti?s tent cities are physically assaulted every night. What was meant for temporarily aid now becomes your prison. Who would you go to for help and that would not betray your trust?
THE SOLUTION
In working along-side HIS Homes for Children we have undertaken to provide a safe house for up to 24 girls ranging from 8 yrs to 16 who have had horrible acts perpetrated against them while living inside the tent cities. The girls are escorted to and from appointments, school and church. It has been discovered that having an escort gives the girls peace of mind and a sense of security they had lost.
Mission of Tears has purchased sewing machines to begin vocational training. Also employed is a qualified Haitian seamstress who will guide the girls into a possible lifetime career of becoming a fashion designer.
Educational classes continue in Creole but with English and French lessons also being interjected. Health care on an ongoing basis is provided for each girl brought into care.
OUR GOAL
To open a store front premier bourgeois clothing store which caters to the Haitian who would need a gown for special occasions but perhaps cannot afford the full price of buying. Rentals at a reasonable price would also be available to serve them. The girls once qualified would learn: computer, serving the public, seamstress, jewellery, hair and aesthetics complete with business skills.
Here?s what you can do.
Help support a class for $100.00 a month.
Help support a girl for $30.00 a month.
DONATE the cost of a wedding gown, grad gown under Haiteen.
CONCLUSION
The rebuilding of Haiti is more than the restructuring of buildings and other structures. It?s helping to repairing the lives of each individual. The biggest thing Haiti needs right now is not to be forgotten.