Ladies Charity Luncheon For Haiti
SATURDAY SEPT. 21, 2019 —1:00 pm to 3:30 pm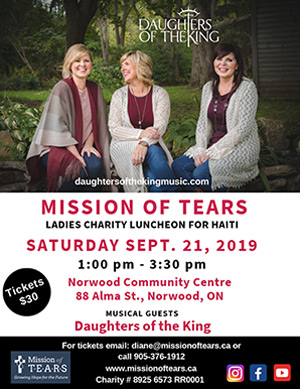 Norwood Community Centre 88 Alma St., Norwood, ON
MUSICAL GUESTS: Daughters of the King!
Download our flyer by clicking the image on the right. Share with your friends, put it up in your office, or place the grocery store!
Tickets are $30
To purchase your ticket online, please fill out the form below...
Important: Upon form completion you will receive an email with instructions for payment.