Haiti / Haiteen
"Haiti is filled with beautiful people who are very proud of who they are and where they are from. There are countless ministries that have come into the country post-earth quake. Our goal when we started was to work alongside people who have had, and have a long term investment into the country of Haiti. We successfully accomplished this through the help of Mission of Tears.
We left the country of Haiti with a deeper understanding of the needs and a good grasp on the ministries that we could potentially partner with in the future. It was a successful trip, and we need to look at what this might look like in the future for our church.
Thank you for the opportunity."
-Pastor Jeff Hackett
Friday, December 11, 2015
Haiti is still recovering from the 2010 earthquake. Mission of T.E.A.R.S still works with our Haitian partners toward that recovery. The tent camps are not as numerous but still do exist.
Life in these camps is so difficult it is hard for westerners to even comprehend how anyone could endure this for so long. But many do so each day with little hope of anything changing or of any good to come. Camp life is the hardest on the youngest and most vulnerable, the children.
Mission of T.E.A.R.S. has partnered with a group of Christian Haitians providing a once weekly children' feeding and day program in one of the last large tent camps remaining. The Project became known as "Its a Good Life".
One key group trip of 2014 was introducing this project to the Norwood Pentecostal Church who after visiting this project with us have committed to stand with our partners and Mission of T.E.A.R.S. Here are some of the pictures of the Norwood group in action at the camp site in 2014.
Bev shares a Bible Story with the children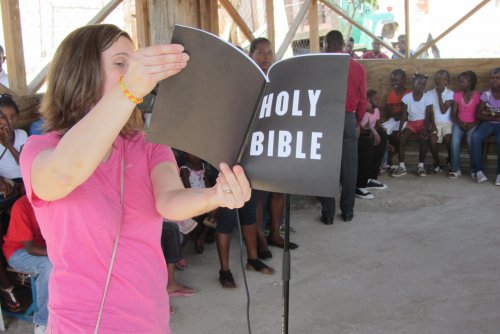 The children start out shy but soon all are making crafts and proudly display them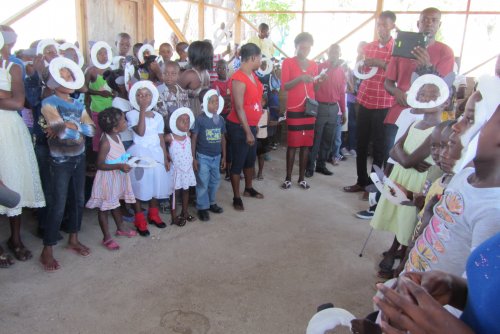 The puppet show and its gospel message was a huge success and the children loved it
Thanks to those behind the scenes like Kim, Jackie and Bev and all the rest of the group for a job well done.
There was time for special one on one moments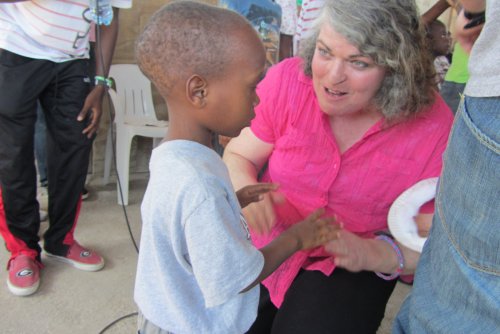 The children are all thankful for the food some even more than we may understand.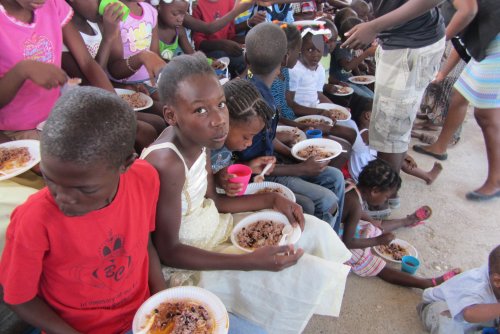 Those in the camps still need our support specifically the children. You can help them by providing to Mission of T.E.A.R.S a generous gift to support this project.
If you or your church or group have the expertise Mission of T.E.A.R.S. can provide the venue for your ministry time in Haiti. Contact us for more information on our next upcoming trip.